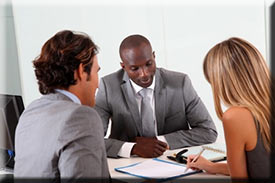 Even a simple uncontested divorce can take a huge emotional toll on your family's life. Divorces can last for years and can cost thousands of dollars.  While, there is no legal requirement to be represented by an attorney when filing for divorce in Oklahoma, it may ultimately be in your best interest. This article examines how you can know if you will need an attorney for divorce in Oklahoma.
Do You Need An Attorney?
With a simple uncontested divorce, you may be able to get by without hiring an attorney. However, if you and your spouse aren't getting along and cannot come to an agreement on things such as who will have custody of kids, who keeps the house or how your marital assets are to be divided, it may be in your best interest to hire a Tulsa family lawyer to protect your interest and maybe the interest of your children. Even if you and your spouse are on good terms, hiring an attorney may be a good idea if your marital estate is sizable and includes a large amount of property and assets. This is especially true if you were not the primary money earner in the relationship or have previously signed a prenuptial agreement.
The Benefits Of Hiring An Attorney
Consulting with a divorce attorney can be to your advantage in a number of different ways:
A Tulsa divorce attorney can explain to you the legal rules and procedures for filing for divorce, in particular as they apply to Tulsa District Court.
A Tulsa divorce attorney can mediate negotiations between you and your spouse to resolve issues such as child custody, spousal support and property division.
A Tulsa divorce attorney can refer you to other professionals you may need, such as:
An actuary to help value your investments, pensions and retirement benefits
An accountant to help with the division of your assets, determine spousal support and advise you on the tax consequences of your divorce settlement.
An appraiser to determine the market value of your familial home.
So, whether or not you need to an attorney to file for divorce will depend on how the size of your marital estate and how complex your divorce is. You can always hire an attorney to handle only specific parts of your divorce or to advise you on particularly sticky areas of the divorce such as child custody, child support and alimony. On the hand, hiring an experienced Tulsa divorce attorney to fully handle your divorce can save you lots of time, stress and money.
Free Initial Consultation: Tulsa Family Lawyer
For a free consultation to find out how the Divorce of Tulsa Law Office can protect your interests and help preserve your peace of mind, call us today.
Alternately, send the Tulsa family lawyer a question using the "Ask a Lawyer" form on this page. Enter your e-mail address or phone number and we'll get in touch as soon as possible.
For a free confidential consultation, call now: 918-924-5526.