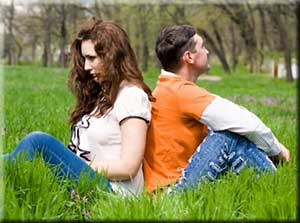 Not all troubled marriages end in divorce. If a married couple is having trouble but believes that the marriage can be saved or if the parties desire to stay married for religious, insurance, health or other reasons, they may petition the court for a legal separation. The following is a brief explanation of the differences between a legal separation and a divorce.
A legal separation is court ruling that the conditions or circumstances of a marriage make it intolerable for the parties to live together, but the marriage should not be dissolved. A legal separation and a divorce are fundamentally the same thing except that with a legal separation, you do not dissolve your marriage and thus will not be able to re-marry. These are extremely important distinctions.
For the most part, filing for a legal separation has the same requirements as filing for a divorce, which will require a equitable division of assets, division of debts, a parenting plan for the children, child support if appropriate and, in some cases, alimony. In addition, a legal separation may be granted on the same grounds as a divorce, which are as follows:
Incompatibility.
Abandonment for one year.
Adultery.
Impotency.
If the wife gets pregnant by a man other than her husband, while she is married.
Extreme cruelty.
Fraudulent contract.
Habitual drunkenness.
Gross neglect of duty.
Imprisonment.
Insanity for a period of five years.
With a legal separation however, the parties are not bound by residency and waiting period requirements. A legal separation may be granted the same day that the petition was filed. However, unlike a divorce, a legal separation is not a final order and can be modified, altered or changed by the court at anytime during the separation. Furthermore, during legal separation either party can file for divorce if he or she believes that their difference are irreconcilable.
Legal Separation is One Step Short of Divorce
So the main difference between a legal separation and a divorce is that a legal separation allows you to live separately but stay legally married. You get all of the benefits and headaches of a divorce without dissolving your marriage. This can allow you and your spouse the time and space to try and resolve your differences and decide if a divorce is in your best interest or not.  An attorney knowledgeable in family law should be able and willing to advise of the other requirements and any benefits of a legal separation.
Tulsa Family Law Attorney: Free Consultation
We know it's not always easy to find an family law attorney who understands your particular need. Because we want to earn your trust before you invest your resources in someone who will represent you in court, we freely offer private initial consultations. To find out how the Divorce of Tulsa Law Office can assist in your Tulsa family law matter, call us today at 918-924-5526.
Alternately, send the Tulsa divorce lawyer a question using the "Ask a Lawyer" form on this page. Enter your e-mail address or phone number and we'll get in touch as soon as possible.
For a free confidential consultation, call now: 918-924-5526.