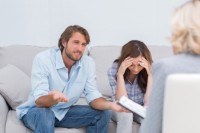 Tulsa divorce mediation may indeed make the process easier. It could assist you and your spouse in negotiating a divorce settlement that is satisfactory to both of you. As a result, you might avoid a potentially expensive and exhausting court battle.
What is Tulsa Divorce Mediation?
Mediation is a process where a neutral third party helps divorcing spouses negotiate a divorce agreement regarding issues such as division of marital assets and debts, child custody, and child and spousal support.
Tulsa divorce mediation is confidential and not legally binding.
Who are the Mediators and What Do They Do?
Mediators are neutral professionals that provide mediation, generally for a fee. Most of them are attorneys or retired judges.
Mediators do not make decisions and are not allowed to give advice to either party. Their job is to assist spouses in making decisions and keeping the lines of communication open by helping them focus on the issues that need to be resolved.
Oklahoma Early Settlement Program
Under the Oklahoma Dispute Resolution Act, dispute resolution centers were established to provide citizens with access to an inexpensive way to resolve disputes without going to trial. You may opt to use one of the mediation centers made available through the state or choose your own Tulsa divorce mediation service.
The Oklahoma Early Settlement Program charges a fee of $5 per spouse for this service. The mediators are volunteers that are trained and certified through the Oklahoma Supreme Court.
According to the City of Tulsa, more than 80 percent of those who participate in the early settlement program reach an acceptable resolution that is long lasting.
Am I Required to Attend?
Whether you will be required to attend mediation will depend on the county where you file for divorce. Some Oklahoma courts require spouses to attempt mediation. In other Oklahoma divorce courts it is not required, but offered as a resource.
Tulsa County courts do require divorcing spouses to attend. As a result, most divorce issues are successfully resolved.
How Can Tulsa Divorce Mediation Help?
The amount of help that mediation can provide will depend on you and your spouse's willingness to work together to reach a suitable resolution. If you relationship is especially volatile, then Tulsa divorce mediation may not work for you.
With the assistance of a mediator, you can learn to communicate with your spouse and resolve disputes that you could not accomplish on your own.
Mediators teach empathy that can assist you in working out your differences with your spouse. If you have children, a mediator will help you work together for their future best interests.
How Long Does Mediation Last?
Mediation will continue as long as both you and your spouse are willing to work together to reach an agreement. Depending on the situation, your Tulsa divorce mediation could be complete within a few weeks.
How Can I Prepare for Mediation?
You can attempt to work with your spouse prior to mediation to reach an agreement on some or all of the issues involved and present those that you could not work out to your mediator.
It is not a good idea to attempt this if you cannot work together and anger and arguments are common between the two of you. In that case, it can actually hurt your chances of successfully mediating your issues and coming to an agreement.
Why Should I Hire an Attorney for Mediation?
You should keep in mind that mediators are neutral third parties who do not work for either spouse and are not allowed to give legal advice. Hiring a divorce attorney who knows the law and understands the process will greatly improve your chances of a successful mediation while protecting your legal rights.
He or she will attend or be available during mediation sessions to help you understand the issues being discussed and to advise you of legal ramifications of the options that have been presented.
Free Consultation: Tulsa Divorce Attorney
An Oklahoma divorce can present complex legal issues that could affect you for many years. In order to protect your interests, you should hire a Tulsa divorce attorney who is knowledgeable in all aspects of the divorce process, including mediation.
Call the Divorce of Tulsa Law Office at 918-924-5526 today to schedule your free consultation.