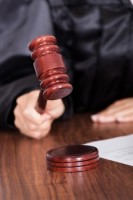 Yes, you can start Tulsa divorce filings when you cannot locate your spouse, provided you meet the requirements established by law. Those requirements dictate that you must have been a resident in good faith of the state of Oklahoma for at least six months and a resident of the county that you live in for at least 30 days.
You may also file for divorce in Oklahoma if you have been a resident of a military reservation or United States Army post for the previous six months before filing your petition.
How to Begin Tulsa Divorce Filings
The procedure to begin your Tulsa divorce filings is the same without regard to where your spouse is located. You must begin the process by filing a petition with the court clerk in your county of residence.
The petition must state the names of the parties and any children of the spouses, the reason for divorce, and a statement of marital issues such as child custody and marital property division.
Although you can file a petition for divorce without help, it is generally in your best interest to hire an attorney to assist you and protect your legal rights. Oklahoma divorce laws are complex and attempting to deal with the legal issues on your own could result in dismissal of your petition.
How to Serve Your Spouse
Oklahoma divorce law dictates that your summons, petition and accompanying documents must be served on your spouse by the county sheriff's department or a licensed private process server. The court clerk will have a list of process servers posted in his or her office.
When your spouse is missing or in hiding, you will have to make a good faith effort to serve him or her with your summons and prove that you did so to the court.
Acceptable ways of attempting to locate your spouse include:
Checking with friends, relatives, landlords, employers or others to find out if they have a current address for your spouse.
Checking telephone listings.
Checking with the post office for a forwarding address.
Conducting internet and social media searches.
If you still cannot find your spouse, you will need to submit an affidavit of diligent search to the court that outlines the actions you took to locate your spouse. You should then be allowed to obtain service by publication.
Once you have received court approval, you will need to publish the summons once a week for three consecutive weeks in a local newspaper that is authorized by law to publish legal notices. If there is no such newspaper in your county of residence, you may publish the summons in a neighboring county that has a newspaper that is authorized to publish legal notices.
Proof of publication, obtained from the newspaper, must be submitted to the court.
What Happens Next?
A hearing for Tulsa divorce filings cannot be scheduled sooner than 41 days from the first day that the service by publication is printed in the newspaper. Once it is scheduled, the court may grant a default divorce if your spouse did not respond within the amount of time noted in the service by publication.
Your spouse may file a motion to vacate the judgment of divorce if he or she can give a good reason for the default. Before the judgment will be set aside, your ex-spouse is required to notify you of the action, file an answer to the original petition, and satisfy the divorce court that he or she had no actual notice.
Why Hire a Tulsa Divorce Attorney?
A divorce, even if your spouse cannot be found, can be complex. The above information regarding filing for a divorce when you cannot locate your spouse is a basic outline of the process.
Many other issues regarding service by publication and the divorce itself may arise that could cause a delay or even end the divorce process.
Free Consultation: Tulsa Divorce Attorney
If you are considering seeking a divorce from your absent spouse, a Tulsa divorce attorney has the knowledge and experience to assist you with every aspect of obtaining your divorce.
The Divorce of Tulsa Law Office offers free consultations so that you can get your questions answered and begin the process of filing for a divorce if you decide that is what you would like to do.
To schedule your free, no-obligation consultation, call 918-924-5526.