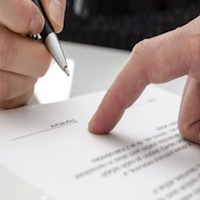 Finding a good Tulsa County divorce attorney that you are comfortable working with is not as easy as opening the yellow pages.
While you can find a lot of attorneys by doing that, you will have no way of knowing whether he or she is actually a good attorney who will look out for your best interests, and whether he is someone you would be happy with.
Locating a Good Tulsa County Divorce Attorney
The first step in your search to find a reputable divorce attorney should be to speak with your friends and family to find out if they have used a particular attorney, or know someone who has, that they were happy with.
This is also a good way to find out the names of attorneys that you should not hire.
The reviews will also give you a feel of whether a particular attorney may be a suitable choice. You may also want to conduct an Internet search for reviews of attorneys in your area and attorney directories on reputable websites such as findlaw.com or lawyers.com.
The American Bar Association maintains a lawyer referral site. When conducting your search, it would be best that you only consider hiring an attorney who practices divorce law rather than one whose expertise lies in a different area of law.
Gather Information
Once you have narrowed your choices down to two or three attorneys, you should obtain information about them such as how long he or she has been practicing law, how many divorce cases he has handled, and whether he believes it is better to go to trial rather than mediating or negotiating to potentially reach an amicable settlement.
Depending on your goals in the divorce, this will give you an idea if he is someone you would be comfortable working with.
Ensuring that an attorney that is experienced in handling divorces in your local area indicates that he will know what to expect from the judges. In some cases, that knowledge can work to your advantage.
Interviewing a Potential Attorney
Before hiring a Tulsa County divorce attorney, you should arrange for a free consultation so that you can find out more about their style of practicing law and whether you will be comfortable working with him and relying on his expert advice.
Some questions you may want to ask during that consultation include whether he will be handling your case as opposed to another attorney in the firm, what experience he has, whether he is easy to get in touch and the best way to do that, how heavy his current caseload is, and whether his views on issues involved in divorce are close to yours.
For example, how does he feel about different types of child custody or spousal support?
You should also ask whether you will receive copies of all documents and communications with your spouse and his attorney.
In addition to the above, you will want to ask the amount of his retainer fee, what his hourly rate is, and whether you will be charged a lesser rate when his paralegal or other staff work on your case.
You should also ask whether you will receive periodic itemized charges and, if so, when. Receiving periodic statements will help ensure that you can keep track of what your retainer is being spent on and allow you to determine whether you believe those charges are reasonable based on your initial consultation and your contract.
In addition, keeping track of that information will give you an idea of when, if any, additional payments may need to be made to your Tulsa County divorce attorney.
Hiring an Attorney
Once you have chosen an attorney that you are comfortable with and whose abilities you are confident in, you should ensure that your fee arrangement is written in the form of a contract that you and your attorney will both sign.
You should not pay a retainer fee until you have both signed that document.
If he refuses, you should continue your search for a reputable, professional attorney.
Free Consultation: Tulsa Divorce Attorney
Hiring a good Tulsa divorce attorney that you are comfortable working with and are confident will look out for your best interests can be difficult. Divorce of Tulsa Law Office offers free consultations to discuss your case and answer any questions that you may have.
Call 918-924-5526 to schedule your appointment now.