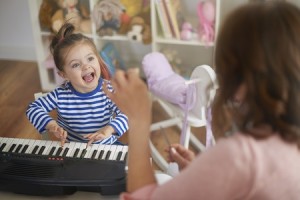 As parents move toward a divorce in Tulsa, there are many decisions to be made. Some of the most difficult decisions to be made concern the children in the marriage.
Physical custody in Oklahoma refers to caring for the child when he or she is with you.
Defining Child Custody in Tulsa
Custody refers to all of the duties and obligations that a parent has toward a child: to shelter, feed, and clothe a child; to provide an education and take care of a child's medical, dental, and other needs, and to nurture that child toward adulthood.
There are two types of child custody under Oklahoma law: physical and legal custody.
Likewise, custody — whether physical or legal — can be shared by the parents or one of the parents may be in charge of those duties (sole custody).
What is Physical Custody in Oklahoma Family Law?
It is the type of physical custody held by the parent that dictates the breadth and depth of their duties with regard to the child. If you and your ex-spouse share physical custody in Oklahoma, that means that the child lives with each of you for some part of the year and you each share in the daily lives and decisions regarding your children.
This might mean that your children spend a week in your home and then a week in your ex-spouse's home on an alternating basis. This might also mean that your children live in one house and you and your ex-spouse trade time living in the house with your children. In either case, it probably means that you and your ex are able to work together toward your the care of your child or children.
If either you or your ex-spouse has sole physical custody in Oklahoma, that parent is usually referred to as the custodial parent. The child lives with the custodial parent, perhaps for much of the time, subject to reasonable visitation or parenting time by the non-custodial parent.
When the child is with the non-custodial parent, that parent has physical custody during the time child spends with that parent, but the non-custodial parent must respect the other parent's decisions with regard to schooling, healthcare, and religious upbringing.
Additional Considerations
The custodial parent generally may not interfere with the activities engaged in by the non-custodial parent during that parent's time with the child.
If you are the non-custodial parent, you have physical custody of your child during that time. However, that custody has some limitations.
For instance, a non-custodial parent may not seek to undermine the decisions made by the custodial parent. The custodial parent could challenge your right to visitation or other parenting time if you undermine or severely interfere with the custodial parent's wishes, such as denying certain healthcare directives, keeping a child out of school or even aggressively undermining a parent's religious instruction.
Free Consultation: Tulsa Child Custody Attorney
Your choice of a Tulsa divorce attorney is critical, especially regarding any issues about physical custody in Oklahoma. Before you retain our family law attorneys, you are invited to have a free, confidential, no-obligation consultation to help you determine whether our family law services can meet your particular needs.
For a free consultation with a Tulsa child custody attorney about your concerns, call the Divorce Law Office of Tulsa today at 918-924-5526.