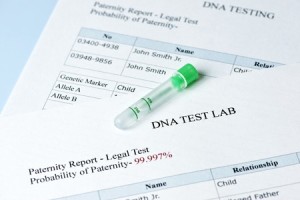 In some cases, it may be necessary to have a man take a paternity test in Oklahoma before a child is born. There are many reasons for paternity testing in Tulsa.
For example, sometimes single biological parents do not stay together through the child birthing process and beyond. Sometimes, a mother may not be sure who the father of her child is.
In either event, it may be necessary for the birth mother to establish paternity in order to establish legal rights to support, custody, visitation, and the child's legal last name.
Establishing Paternity in the Tulsa Area
We all know that it is important to establish paternity. But what is it and why is it important? Paternity can be defined as the quality or state of being a father.
Although most often it is the mother seeking a paternity test in Oklahoma, sometimes it is the father or the child who seeks to establish paternity. With DNA testing, it is easier than ever to deal with the scientific portion of the process. But what about the legalities of the process?
Oklahoma is one of the states that has a simple process in place, if the father is willing. In Tulsa, if the father is willing to sign an Acknowledgement of Paternity, that solves the issue. If the father is unwilling to sign the Acknowledgement, the process is more complicated.
FAQ: Compelling a Paternity Test in Oklahoma
A paternity action is a petition before the court to establish the biological father and to establish legal rights for all the parties involved. A request for DNA testing is usually a component of this action. In some ways, this kind of petition resembles a civil action.
The mother is the complainant or petitioner before the court. She must arrange service of process of the petition upon the father.
Once that is done, discovery can commence and a paternity test in Oklahoma can be ordered. Discovery is a process of exploring the facts and evidence that support the petition or that might support a defense to the petition, if the man served is actually not the father of the child.
It is during this process that DNA testing usually occurs. All of this can be done before the child is born. (Okla. Stat. tit. 10 § 7700-611)
Paternity rights will not be established, however, until after the child is born.
Free Consultation: Tulsa Paternity Specialist Attorney
For a free consultation about establishing paternity for your child in the Tulsa area, call the Divorce Law Office of Tulsa today at 918-924-5526.