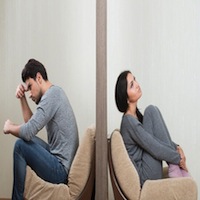 All Tulsa divorces go through family court, which streamlines the Oklahoma divorce process as much as possible.
Although nowadays divorce is routine, there are still strict requirements you must follow in order to obtain your divorce.
Also, if your divorce involves more complicated matters, such as hidden assets and questions of marital property, your Oklahoma divorce process will require a higher level of legal expertise.
Starting the Oklahoma Divorce Process
The first step to starting the Oklahoma divorce process is to file your Petition for Divorce in the Tulsa County District Court.
Your petition will include the names of the parties, date of the marriage, and requests for child support or alimony, if applicable.
Your petition will ultimately notify the court of these issues:
1) that you seek a dissolution of your marriage
2) the grounds for the divorce
3) how you seek to divide property
4) any other relief you seek, such as child custody or support.
Serving Your Spouse
The Oklahoma divorce process requires that the petition is hand delivered to your spouse. In Tulsa, this is called personal service of process.
Personal service of process allows the court to make a legal decision involving your spouse–this is called personal jurisdiction.
You, yourself, cannot personally serve your spouse. It must be done through the sheriff's department or a private process server.
If you have attempted to have your spouse personally served, but do not know where he or she works or lives and he is evading service, you can have them served by publication. This means that you can publish a notice of the divorce petition in certain local newspapers.
The notice must run for three consecutive weeks. Once that three weeks is up, the court will have personal jurisdiction over your spouse and can issue the divorce.
Note, however, that if you have to serve your spouse by publication, the court cannot decide any issues of child support, alimony, or custody. The court can only issue a divorce.
Get Temporary Orders in Place
A court will likely order that some temporary orders be put in place while a couple is separated, but before the divorce is finalized.
The temporary order can be related to spousal support, child support, child custody, and visitation.
Both parties can ask the judge for what they reasonably believe to be necessary in terms of support and custody.
Mediation in the Oklahoma Divorce Process
Courts have a strong interest in preventing family law cases from going to trial, since many family law issues are a simple matter of two parties coming to an agreement.
Courts will therefore order parties to attend mediation where they can negotiate issues of alimony, division of property, child support, custody, and visitation.
The goal of mediation is to allow the court to enter an order based on what the parties have agreed to, instead of going through more time consuming litigation and trial.
Free Consultation: Tulsa Divorce Attorney
If you are considering seeking a divorce, a Tulsa divorce attorney has the knowledge and experience to assist you with every aspect of your Oklahoma divorce process.
The Divorce of Tulsa Law Office offers free consultations so that you can get your questions answered and begin the process of filing for a divorce if you decide that is what you would like to do.
To schedule your free, no-obligation consultation, call 918-924-5526.