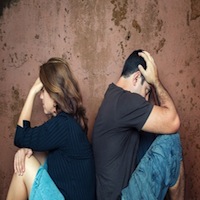 Separating during an Oklahoma divorce may not be financially or logistically feasible right away.
Although continuing to live with spouse during divorce may not be the best course of action, you can legally continue to do so unless the court orders one spouse to move out or the divorce becomes final.
Potential Pitfalls if You Live With Spouse During Divorce
Continuing to live with spouse during divorce in Oklahoma can bring a number of pitfalls with it.
Your children may get the impression that things will eventually work out, especially if you continue to share a room.
Alternately, the tension in the home may become unbearable for everyone involved.
Or, you may suffer emotional setbacks and engage in unhealthy behavior.
Ultimately, it will be best that one party move out within a reasonable timeframe when getting divorced.
Also, your attorney may hesitate to represent you in a divorce if parties have not taken the step of separating from each other.
Similarly, a judge may not grant temporary alimony or child support if both spouses continue to share a home.
Possible Issues of Domestic Violence
If you share a home with an abusive spouse, you typically cannot force them out unless you file a Temporary Protective Order, which would require the spouse to vacate the premises or stay away from you.
If you believe you need a Protective Order, you can file for one at the Tulsa County District Court Family Relations Counter.
Filing for divorce simultaneously may show the court that you are serious about keeping your husband away from you.
Free Consultation: Tulsa Divorce Attorney
Although there are no laws requiring that you move out of a marital home during a divorce, an experienced Tulsa divorce attorney will likely advise against you continuing to live with spouse during divorce.
If you need assistance with a divorce, contact an attorney who can help with proceeding in the divorce, even if matters are complicated because of continued co-habitation.
Call the Divorce of Tulsa Law Office at 918-924-5526 today to make an appointment for your free consultation.