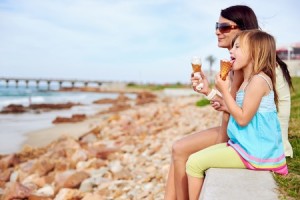 As much as we may not want to look at the issue of a child visitation schedule Oklahoma, it is an essential part of any Tulsa divorce involving children.
The Tulsa family court, together with the separating parents, will craft a schedule to determine how much time each parent will spend time with their child.
The aim of a child visitation schedule Oklahoma is to ensure continued regular contact with each parent.
A Child Visitation Schedule Oklahoma Allows Shared Parenting
The term "visitation" has come into some disfavor over time. It connotes a parent who is not fully involved in the raising of a child. As such, some parents like to refer to visitation as shared parenting time; some even refuse to call their parenting time visitation.
Oklahoma has developed a set of guidelines regarding the development of parenting plans. (Okla. Stat. tit. 43, § 111.1A)
In crafting a child visitation schedule Oklahoma, the court takes many variables into consideration, including: school schedules, summer vacation time, midweek and weekend time-sharing, contact with extended family members, parents' work schedules, and any travel requirements associated with visitation.
The goal is for the schedule to work in the best interests of the child, and the court prefers that parents mutually work together toward that goal. If the parents cannot do that, the court will impose a child visitation schedule Oklahoma.
The goal is for the child to continue to have meaningful relationships not only with each parent but also with the extended family of each parent. Parents are encouraged to work together to allow children to attend family functions that include extended family. Therefore, the schedule must have some flexibility to adapt to important events and changes in the parents' lives as both occur.
The schedule may also need to be adjusted as children grow and their needs change. A child visitation schedule Oklahoma for a toddler may look somewhat different than a visitation schedule for a school-aged child or for a teenager.
Your Child's Age May Make a Difference
The younger the child, the more need for frequency and consistency in visitation. Young children need to learn to trust multiple caregivers.
If too much time goes by between visits, that bond can be interrupted. This may necessitate a child visitation schedule Oklahoma that allows the non-custodial parent to have more frequent visits rather than a schedule of alternating weeks with parents.
As the child moves into schooling, it is more important that the visitation schedule work in conjunction with the school schedule. Most schedules will allow alternating weekend sharing between the parents. This can be done on a rotating basis, or by scheduling specific weekends for the parents.
Most schedules do not specify a mid-week visitation at this age, but there are reasons to ask for a mid-week visit. It can be especially helpful for younger school-aged children to have a regular weekday visit that they can count on with the non-custodial parent. This can create some economic difficulties for the parents, so courts may not choose to order it.
Free, Confidential Child Custody Consultation
For a free consultation about negotiating a child visitation schedule Oklahoma or other family law matters, call the Divorce Law Office of Tulsa today at 918-924-5526.