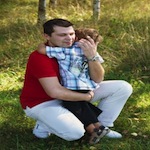 If you are getting a divorce in Tulsa, you may be wondering what are the typical child visitation guidelines Oklahoma.
In short, parents typically determine:
1) regular visits
2) holidays, and
3) summer break.
Regular Child Visitation Guidelines Oklahoma
Regular visits are the monthly, bi-monthly or weekly visits the noncustodial parent receives. This can be as often as the parents agree to, but is usually limited to every weekend or every other weekend.
Parents who wish to take their children to church may try to work out an arrangement where the child is returned by the time to go to church on Sundays or will simply take the child to church on alternate days or the week.
The noncustodial parent may also ask for visitation one or two days during the week during weeks they do not have a weekend visitation.
Where appropriate, a noncustodial parent may also exercise visitation in the form of transporting and attending a child's extracurricular activities. This may include taking them to basketball practice and coaching the team, for example.
Holiday Child Visitation Guidelines Oklahoma
The Tulsa family court will likely ask that parents determine visitation during holidays. These include holiday weekends, like MLK Day or President's Day.
Usually, parents alternate three-day weekends, but the noncustodial parent can ask for all three-day weekends, or most three-day weekends.
Courts typically award Father's Day and Mother's Day and parental birthdays to the respective parents.
As for major holidays, the mom and the dad may either alternate between Thanksgiving and Christmas (i.e. the mom has Thanksgiving if the dad had Christmas.)
Or, the parents may split these holidays every other year (The mom gets Christmas in 2015 and the dad gets Christmas 2016.)
Or, they may split the holidays themselves (The mom gets Thanksgiving until 5pm and the dad gets Thanksgiving after 5pm.)
Summer Child Visitation Guidelines Oklahoma
Summers can be a time when the noncustodial parent spends extended periods of time with their child. This may be two consecutive weeks or a whole summer.
A court will consider what is in the child's best interest if parents cannot agree.
Free Consultation: Tulsa Child Custody Attorney
Understanding child visitation guidelines Oklahoma is not easy. Allow an experienced Oklahoma child custody attorney to assist you during negotiations.
For a free consultation with a Tulsa child custody attorney, call the Divorce of Tulsa Law Office today at 918-924-5526.