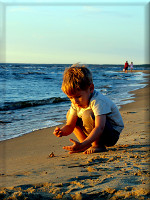 Settling child custody can be one of the most difficult aspects of a divorce but it need not be with the help of a compassionate divorce attorney. Tulsa County courts make custody determinations on the best interests of a child, and may even appoint an outside attorney to represent those interests. A skilled Tulsa child custody attorney can represent your concerns and help you demonstrate how your involvement is best for your child.
Tulsa courts make child custody decisions based on a child's physical and psychological interests. Courts may award one parent sole custody, set up joint custody in which parenting roles are shared, or split custody of two or more children with each parent having sole custody of at least one child.
Except in those cases where statutory requirements affect custody awards, Tulsa courts weigh several factors including which parent is more likely to allow visitation and the preferences of a child. Statutory presumptions weigh against a parent who is a convicted sex offender, lives with a sex offender or where there is evidence the parent is involved in ongoing domestic abuse.
Relocation decisions may also imply a need for involvement by a family lawyer or divorce attorney. Tulsa courts may issue restraining orders when a parent has failed to properly notify the other parent prior to moving a child. On the other hand, a court may offer temporary orders permitting relocation if required notice was filed in a timely manner and there is sufficient evidence that a court will eventually approve relocation at a final hearing.
An Understanding Tulsa Family Lawyer
Most parents would rather work out family matters at home and not with a divorce attorney. Tulsa provides fine schools, recreation, faith communities and diverse friends for a child, but when family discord interrupts a child's life, a family law attorney can help a family find a stable foundation to move forward while reducing the impact of parents' divorce in the life of a child. Oklahoma allows for dissolution of marriage, but rarely allows dissolution of parental bonds. Custody hearings are an opportunity for a family to work out a stable future so children can thrive even after a marriage is over.
Divorce proceedings are often adversarial, and emotions can cloud judgement. A skilled family attorney can help cut through the emotion, working with opposing parties when possible and standing strong in court when necessary. With the representation of a compassionate and strong divorce attorney, Tulsa family courts can be a place to build the foundation for a stable and secure future for children of divorced parents.
Free, Confidential Child Custody Consultation
For a free consultation about child custody matters in Tulsa Oklahoma or in Tulsa courts, call Divorce of Tulsa Law Office today. Call us at 918-924-5526.